DEI Workshop for Employers - February 28 & March 1
Description
Taught by:
David Jones and the team at Diversity of Thought, Inc. (bio at bottom of page)
Register to attend two highly impactful and engaging days of diversity, equity and inclusion trainings that are specific to business environments – with an overall goal of increasing the sense of belonging for employees across Central Oregon and driving better outcomes for local organizations.
This series is designed for organizational leadership, owners, boards of directors, HR professionals and others in a position to implement DEI practices in their place of business. The series is open to private, public and nonprofit organizations alike. Boards of directors and leadership teams are encouraged to attend as a group.
These workshops are deeply interactive and designed to "train the trainer" to bring education back into their workplaces. Breakout exercises ensure participants are competent and confident in taking the learning to deploy in their workplaces. Participants will receive a variety of digital materials, including customizable PowerPoints and digital participant guides.
Each day includes morning coffee and a light lunch.
Participants are highly encouraged to attend both days, but may sign up for just the first day, if needed. The second day is open only to those who attended day 1.
Thanks to the partnership funding this project, costs are just $100 for the two-day workshop, $60 to attend only the first day. Cost is not meant to be a barrier to participation of individuals or teams, so please contact Cyrus Mooney to confidentially request a waiver of registration fees – cyrus@bendchamber.org.
What to Expect:
DAY 1
The Fundamentals of DEI
Moving from Uncomfortable to Comfortable
Knowing why this work is important and how to achieve collective buy-in
Ensuring teams are aligned on clear definitions
Understanding diversity – beyond the surface level
Getting comfortable talking about diversity
Recognizing subtle acts of exclusion and how to respond
The Science
Impacts of exclusion
The science of us
Knowing bias – and what you can do about it
From Equity to Equality
Interactive experiences and exercises to help understand the need for equity, the benefits of privilege and learning how to change policies to create either equality and/or equity
Train the Trainer Activities
DAY 2
Practical Applications of DEI:
Recruit-Hire-Retain
Creating the Pipeline
Defining the talent pipeline
Be ready to recruit
6 steps to building a great talent pipeline
The Environment for Retention
Leadership matters
Coaching matters
Recognition matters
Why Building a Great Team is Crucial
The benefits
Why it matters
What are we looking for
Interviewing 101
Lawful and behavior-based interviewing
Conducting the interview
Finding your "S.T.A.R"
Strategies for equitable recruiting practices
About David Jones
Executive Director, Diversity of Thought, Inc.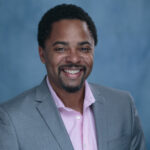 David Jones is the founder and CEO of Diversity of Thought, Inc. (D.O.T.I.)
"We are a social enterprise whose mission is to elevate humanity through business."
David is also the Executive Director of Diversity of Thought Nonprofit Organization. DOTNPO's mission is to empower people to change the world around them.
He believes in unleashing the power of human potential, embracing diversity, and helping people and organizations to thrive, not just survive.
David also host the show True Colors for Brevard Cultural Alliance where they highlight minority contributions to the arts throughout Brevard County.
Prior to starting D.O.T.I., David was responsible for the learning and development for Best Buy's Southeastern Region which includes Florida, Georgia, South Carolina, North Carolina, Tennessee, Mississippi, Alabama, Virginia, and Puerto Rico. He and his team of learning professionals were responsible for the onboarding and continuing education of all employees, agents, and leaders (from store employees to VP's).
Under David's leadership, his territory led Best Buy in the following categories for five consecutive years:
• Training completion percentage
• Lowest turnover (lowest in the history of the organization)
• Highest sales performance
• David's direct team held the highest employee engagement scores
David currently sits on the following boards:
• Infrastructure and Oversight Board for the City of Palm Bay
• Military Spouse Economic Empowerment Zone, Training Chair
• American Advertising Federation: Space Coast Chapter, DEI Chair and Government Relations Co-Chair
• Space Coast Black Chamber of Commerce
• The Greater Palm Bay Chamber of Commerce – Incoming Board Chair, Chair of the Multicultural Networking Group and Government Relations Chair
David sits on the following committees:
• Hey Blue Advisory Council
• Lead Brevard Equity, Inclusion and Diversity Committee
David is an accredited coach and facilitator in Psychological Safety with the Academy of Brain Based Leadership.
David's MOST important job is being a father to his beautiful daughter, Winter Aria.
The Bend Chamber is actively supported by these Signature Investors