What's Brewing? | Oregon's Rockstar Entrepreneur Tour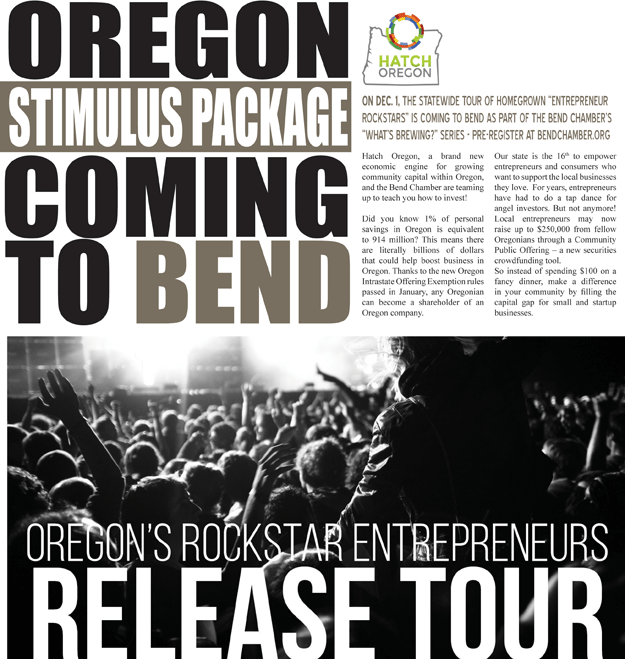 Pre-registration for this event is now closed.
Please join us at the Deschutes Brewery Tap Room to sign up at the door!

You don't have to be a millionaire to invest in your community! For the first time in Oregon's history, all Oregonians have the choice to put their money in the people, places, and products they know and trust – right here in Oregon. Would you become a stakeholder in your own local economy if you could, especially if it only cost you $100?

A recent expansion of law allows Oregonians to invest in ways traditionally left to accredited investors. Community Public Offerings (CPOs), a new securities crowdfunding tool, provides alternatives to traditional lending and creates a cost-effective, accessible pathway for Oregon entrepreneurs to raise capital directly from Oregon residents like you and me.

At this What's Brewing, come hear from "Oregon's Rockstar Entrepreneurs", the first cohort of businesses offering this new investment tool.

Talk with the drivers of this new CPO law:
Amy Pearl of Hatch Innovation
Heather Stafford, Business Oregon.
Presenters:
Kyle Akin, Crescendo Organic Spirits
John MacDougall, MacDougall & Sons Batmakers​
Eric Wilson, Gro-Volution LLC

Complete listing of the CPO "Oregon Rockstar Entrepreneurs", https://secure.hatchoregon.com/

2015 Rockstar Entrepreneur Tour Schedule: http://hatchoregon.com/tour#Bend2

Brought to you by the Community Affairs Council of the Bend Chamber of Commerce.
What's Brewing? | Oregon's Rockstar E...
Date and Time
Tuesday Dec 1, 2015
5:00 PM - 7:00 PM PST
Tuesday, December 1, 2015
Starts: 5:00 pm.
Ends: 7:00 p.m.
* Doors open for networking at 5 p.m.
Forum starts at 5:30 p.m.
Fees/Admission
Tickets $20 | Chamber Members $15
Includes one complimentary beverage.
Door price is $5.00 more.
The Bend Chamber is actively supported by these Signature Investors